How to learn language from scratch — by ear!
You want to learn language – Great!
And you wonder, "how will it be or how to say it…" in this language?
If not, then you "don't want" to learn language. Try to start being interested…
If YES, then I-SAiD is made especially for you!
(Try it now on the website)
Web cabinet for: PC, laptops, mobile, Windows, Android, iOS, macOS for Google Chrome, Yandex.browser and Safari
---
With the I-SAiD application, you will be able to quickly learn language in the simplest and most understandable way for us — "by ear". The program easily allows you to train the pronunciation of phrases, quickly learn and memorize exactly those words and phrases that really interest you at a given time!
I-SAiD is a wonderful tool for memorizing words and expressions, with high-quality translation and a pleasant-to-hear voice, convenient functions (Ask) to check for translation, pronunciation training, grouping phrases by topic and conversational practice in your pocket!

---
I want to learn language — how to start?
Start learning language by understanding how the words and phrases you are interested in sound. You will be able to memorize these phrases the fastest without much effort, doubling the "lively interest" on any topic. Just open the I-SAiD application, say any phrase, get an answer and try to repeat it by pressing the button (3). I-SAiD will significantly simplify the learning process, will allow not only to learn the translation and listen to the phrase live, but also to practice its pronunciation right there.
Practice pronouncing phrases from the first minutes of work. Just go to our Web-Cabinet or the app and say ANY phrase in your native language, listen to the translation-voice and repeat after. The app has a pleasant, unique voice that allows you to normally learn language without "wrinkling" from robotic speech.

---
Throw the "card apps" out of your phone – and …
download I-SAiD!
You don't need cards to learn language when you can learn and memorize any words or phrases by simply saying in your native language what you want to learn. Phrases and their translations are automatically recorded in List, where you can additionally listen to, edit, group by topic, and activate for individual repetition.
The I-SAiD project is designed for students and their teachers. Teachers will be able to create ready-to-use word lists by topic and share them with their students, instantly prepare already voiced material for the lesson, devote more time to language constructions, pronunciation quality and grammar, without wasting time on "chorus work by recorder and tape recorder", and students will be able to master material faster to a minimum, because no one will learn the words for them anyway.

Words should be spoken in order to memorize them faster!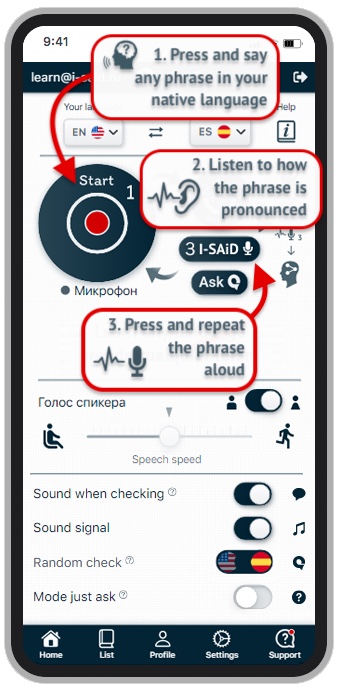 1. Press the main button (1) and say any phrase in your native language (e.g. "Wash your hands")
2. In a second we already know how version of the phrase sounds!!! We can listen to it again several times.
3. press (3) I-SAiD and repeat aloud what you heard. You repeat – I-SAiD checks… You repeat it 5 times and have ALL of it memorized!
Try it now on the website:

Android app:
You don't need to learn "new" words, you know them. More precisely, you know the meanings of words and believe me, they are the same in all languages. All you need to know is how the words sound in another language and learn to repeat them, if so, go ahead!

I-SAiD – helps you learn language by ear!
Say any phrases that interest you in your native language – get an instant translation-voice in the target language and repeat after the program using the "I-SAiD" spear. The app will help you memorize words and practice pronouncing any foreign phrases.

I-SAiD is your helper when learning language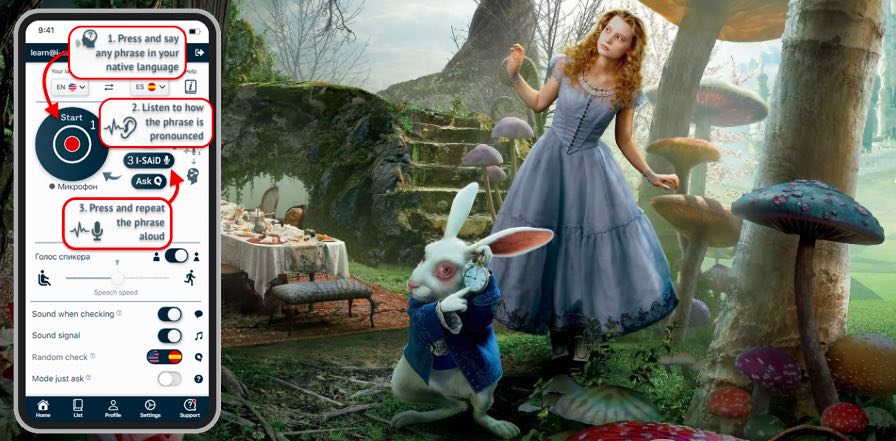 Forget forever about "lists of unfamiliar words" – now all the words are familiar to us, or rather you know their meanings, the only thing left is to understand how they sound in another language, and if so, we look around us and wonder what would be … umm … whatever … We press the main ◉ button and tell the program 'white rabbit', in a second you already know the version of the phrase!!! And then you press the I-SAiD button and repeat it out loud. You repeat – I-SAiD checks… You say it 5 times and that's it!!! Now you know how to say "white rabbit" in the language you are learning))) This is awesome!!! You are not limited to anything, I-SAID is made especially for you!!!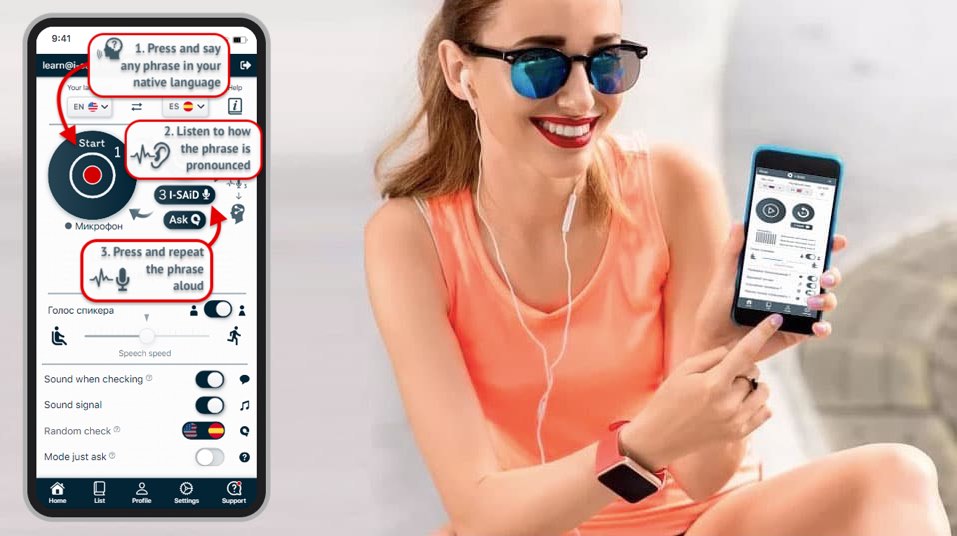 Instant translation from one word to a sentence. Learning a foreign language becomes not only fast but also fun. Translation-speech literally on the fly with the I-SAiD app you can overcome any language barrier. Practice speaking at any time, you can listen to the recordings as many times as you want. All translations and voiceovers are saved in your checklist. The application is suitable for absolutely any age and any level of knowledge.
I-SAiD works on any device right in your browser for: PC, laptops, mobile, Windows, Android, iOS, MacOS for Google Chrome, Yandex.browser and Safari

I-SAiD for the family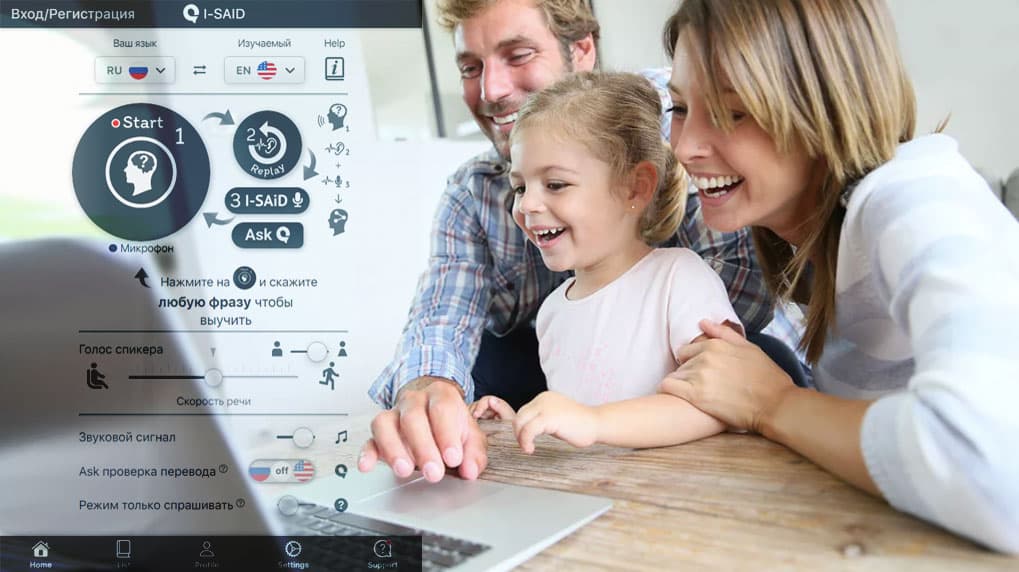 The I-SAiD app has no age restrictions, perfect for use at any stage of language learning. Game mechanics in the form of dialogue, repetition behind the program and answering random questions of translations of already familiar words, will make learning a fun and exciting activity for the whole family. Try it for free – you'll love it!

We don't
We DO NOT show ads and do NOT collect personal information! We DO NOT send out emails or ask for your phone number. So just download and use it! You can also try us online right now.

---
For the first time is given full and free access. You can extend the time of free use within reasonable limits – just contact the chat from the application – you will be done in 5 minutes.

You can start right now
1. Click on the "Play" button and say any word in your native language. You will instantly get a voiced translation. Call items around ourselves – after all, visual images are very important for memorization. The application has an option checking pronunciation, as well as the ability to save uttered words with translation.
2. The "Repeat" button will reproduce the last active phrase as many times as you need to understand the pronunciation. If required, the program will repeat the same word at least 1000 times. You can hear all nuances of pronunciation.
3. The I-Said application is trained not just to pronounce, but also ask, testing you, to check the phrases of the phrases with voiced earlier. Button "I-SAID" – just for this. By clicking on it, you will give the program the ability to fix this or another phrase. By the way, to remember the word and understand how it is pronounced, just a couple of times to use this button.
4. All phrases are recorded on the "List" tab in the lower menu, so you can always:
-Dad or remove phrases;
– elact them;
– to the group to the group for convenience; Or additionally sound when you need any of them, just clicking twice on the desired line. Icons show the number of perceived, rightly told and answered by the user times.
5. On the "Profile" tab, you can familiarize yourself with the overall statistics on your account, which includes:
-total time;
-Un the number of phrases;
-colicity of listened phrases;
-Summa said phrases;
-Common number of checks;
-Summage of the correct answers;
– Compact of learned phrases. Also, you can pay any way convenient for you for the required period of operation, based on tariff plans or use test access.
The application is implemented by gaming mechanics, i.e. You can track the number of words you have learned that are marked with such after 10-15 random checks during training.
We have a simple and intuitive interface Come to the Web-Cabinet and try it free now!